Schedule Your Online Demo
Much more than a traditional EHR, our solution
provides efficiency and ease of use to the orthopaedic profession. And we're proud of it!
Fill out the form below to learn more about what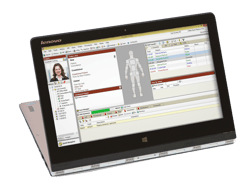 Phoenix Ortho has to offer and t
o set up your free, no-obligation onlin
e demo of Phoenix Ortho's EHR | PACS | PM solution. The demonstration will take only 30 minutes to complete and will cover several key software features, including overviews of our:
Comprehensive, orthopaedic-specific electronic health record (EHR) suite.

X-ray and MRI management.

Picture archiving and communications system (PACS).

Patient portals and patient kiosks.

Outcomes reporting capabilities.

Features for clinical data analytics.

Integrated practice management (PM) solutions.
If you prefer to discuss your options via phone instead of viewing the demo, you can also reach out directly to our sales team by calling (800) 843-8179 and selecting Option 1 at the automated prompt.
Phoenix Ortho: Above and beyond traditional EHR solutions
Phoenix Ortho provides the only comprehensive EHR platform designed specifically and exclusively for orthopaedics. Our software continually adapts to physician use and preferences, allowing it to manage the entire workflow in a modern orthopaedic clinic. Say goodbye to the hassle of cumbersome template building and protracted training times.